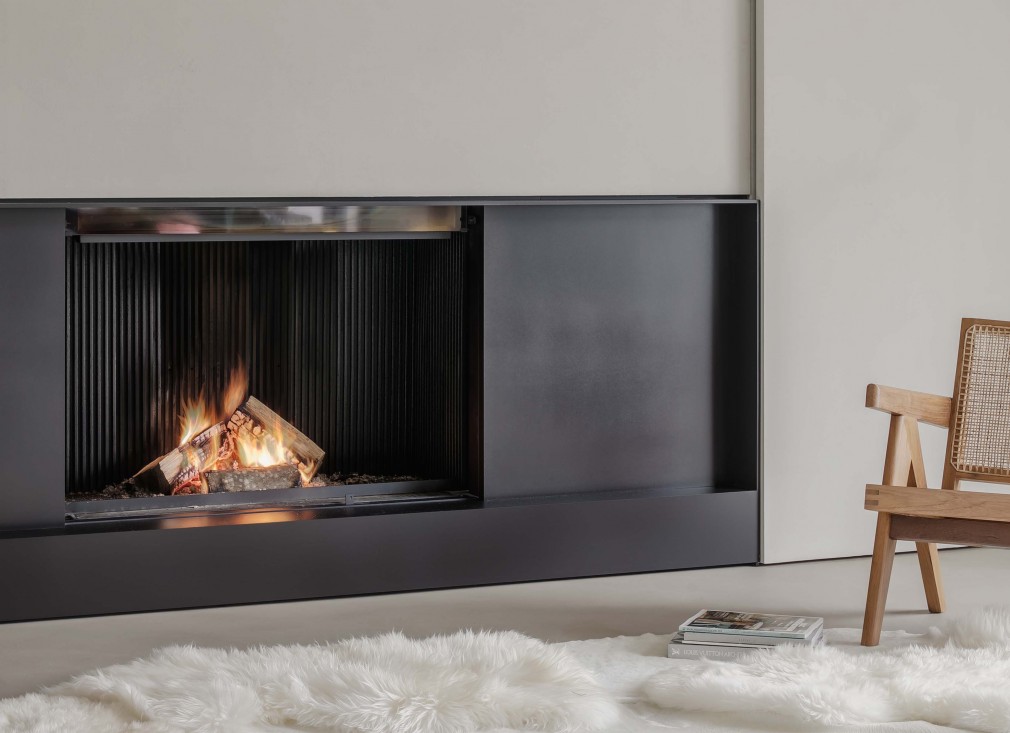 Ultime D
This generation of room air independent wood fireplaces with liftable door is equipped with a dynamic combustion technique that ensures optimal combustion and high efficiency. The appliances are independent of room air and are therefore suitable for all homes that are built according to the latest building regulations. A typical Metalfire product, with the most advanced technology.
     
Sliding door system 
To make it easy to make the fire or to add more wood, the glass door of the Ultime D 2s and 3s can be slid upwards. This is simple and easy thanks to the balanced door system and the handle supplied. The smart frameless finish to this door system ensures a handsome aesthetic finish that fits seamlessly into sleek interiors. 
Easy-clean door system 
All one-sided Ultime D models have a door system that allows the user to tilt the glass forward so that it is easily accessed for cleaning. The glass can also be fully raised, making it easy to make the fire or add more wood.
Responsible wood burning  
Wood heating can only be economical, healthy and ecological if it is used in the right conditions! Choice of equipment, choice of wood, feeding the stove, maintenance... With these conditions you can reduce the emission of fine particles and other air pollutants, but also increase the efficiency of your combustion. The objective is this: Increasing combustion efficiency Reduce emissions of fine particles and other air pollutants Improve end-user comfort. To this end, a video is available today that explains all this step by step.
Interior finish 2021
Triangle | Round 
Similar to the Original vertical cast iron ribs, the new Triangle and Round finishes ooze minimalism. However, whilst carrying on Metalfire's love for pure and simple design, these innovative additions do add a certain dynamic to our range. The Triangle cast iron ribs offer a more angular approach to the fireplace's interior, whereas the Round cast iron ribs - based on a design by Belgian architect Benoit Viaene - are characterized by soft curves. Common denominator: the elegant rhythm in both surfaces, which creates an interesting dialogue with the warm light of the fire. Irrefutably, both Triangle and Round are sleek and finely crafted finishes that will blend in seamlessly while simultaneously standing out in any (fireplace) interior.
MADE-TO-MEASURE 
Alongside its fireplace collection, Metalfire also specialises in additional MADE-TO-MEASURE solutions, finishing frames, concepts, floor plates, wood storage, etc. These items are manufactured to the design of the customer/architect/interior designer.
The technical department will submit the production plan to the customer for approval, and will then create these unique pieces through the skilled hands of the craftsmen in our workshop. This gives the products a unique appeal which simply can't be achieved by automated production processes.

Finishing frames (90 x 10 mm) and concepts available in all standard versions and to measure.
Prices can be requested through our resellers.